Lunar New Year 2023
Celebrate the Year of the Rabbit at South Eveleigh from 21 January until 5 February 2023 with a series of fun cultural activities and performances.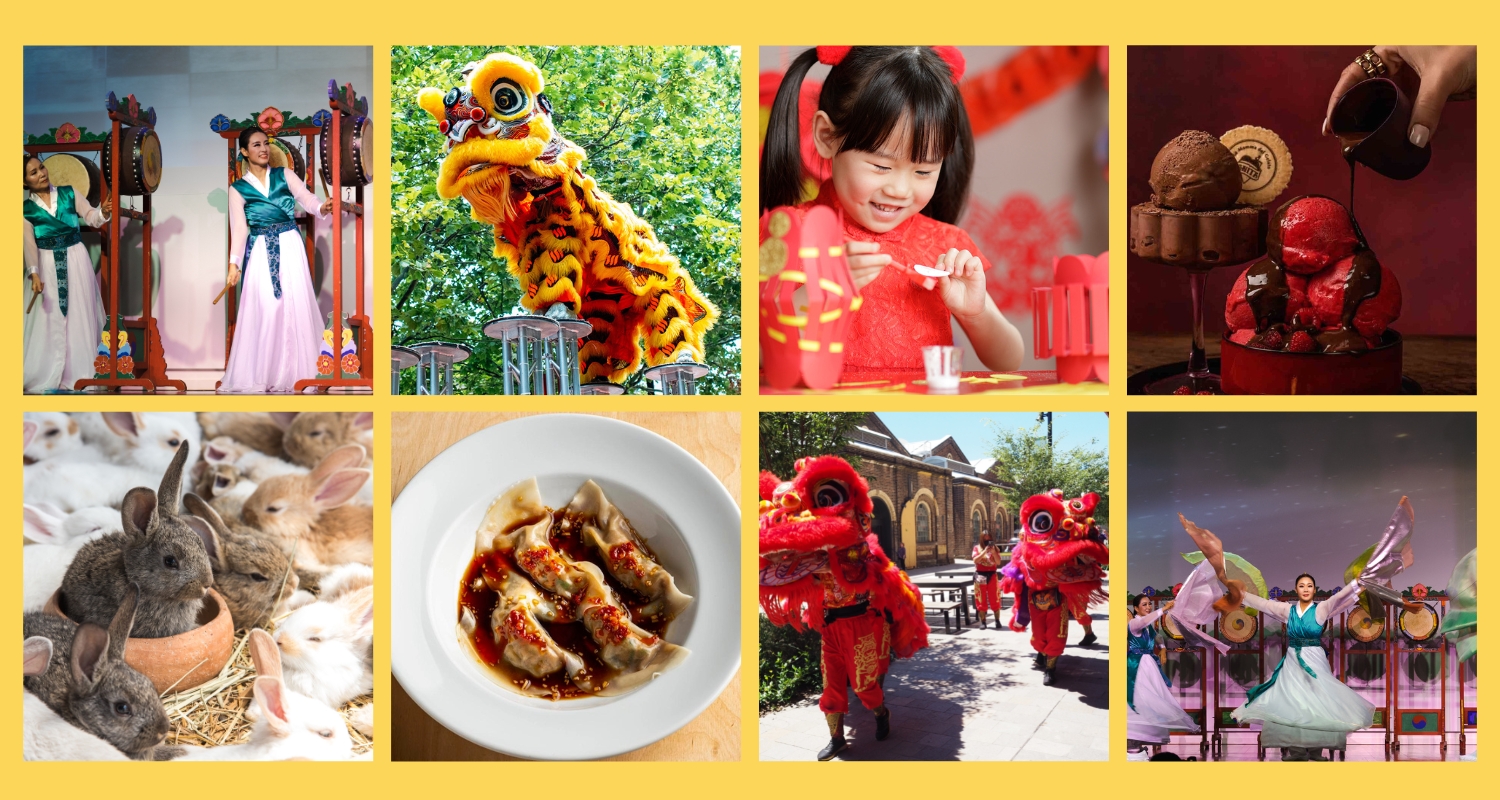 COMING UP:
Let the bunnies snuggle up to you at our Rabbit Petting Experience at Eveleigh Green on the following dates:
- Saturday 28 January 11am-1pm
- Saturday 4 February 11am-1pm
Wednesday 1 February 12pm | Taiko Japanese Drumming Performance at the Interchange Pavilion.
5-29 January | Marvel at Jenny Kee: The Aunties, the squiggly anthropomorphic duo sprouting up on Locomotive Street as part of Sydney Festival. For the Lunar New Year festivities The Aunties will be illuminated in red from January 21-29.
Strike a pose with The Aunties, share an IG post and tag @southeveleigh for a chance to win a $150 gift voucher to spend at BrewDog South Eveleigh! Click here for more info & T&Cs.
PAST EVENTS:
January 21-25 | Join the free School Holiday Kids Heritage Activity and pick up the South Eveleigh Gazette for fun family activities celebrating the rich history of South Eveleigh and the Locomotive Workshop.
On Sunday 22 January, we're kicking off Lunar New Year's Day with a full program as below:
- 11am-4pm | Stop by the Lunar Lantern-Making Workshops for all ages at 107 Projects South Eveleigh located at level 1 of the Community Building. Book your tickets here.
- Lucky Kwong, Eat Fuh or Pepper Seeds Boutique Thai Bites are open on Lunar New Year day. Book a table now and enjoy a festive feast with family and friends.
- 1pm | Don't miss the awe-inspiring and must-see Lion Dance on Poles performance by renowned dance troop Jin Wu Koon at Innovation Plaza.
- 2pm-3pm | Enjoy the spectacular and vibrant Korean Fan Dancing performance followed by a unique mix of traditional Korean Drumming and K-pop dancing at Innovation Plaza.
- 2pm-4pm | Anita Gelato will serve special Lunar New Year flavours available from their cart across the day.
Tuesday 24 January 11.30am-1.30pm | Follow the Lions during the traditional Plucking of the Greens procession, showering luck on the South Eveleigh retailers along Locomotive Street and Central Avenue.
Wednesday 25 January 10am-11.30am | Kids Lion Dance Workshops fun for all-ages. Book your tickets here.
We wish you good health and great prosperity in the Year of the Rabbit!
Subscribe to our newsletter, follow us on Instagram & Facebook and be the first one to know about all of the upcoming events, offers and new venue openings at South Eveleigh.